ホテル  Hotels
ホテルデザインは、都市のデザイン成熟度のバロメーターです。ホテルデザイン激戦区ロンドンでは、クラシカルからコンテンポラリー、そして洋の東西を問わずあらゆるデザインが集まり、デザイン文化を形成します。そこから、デザイナーは唯一無二のデザインコンセプトを紡ぎだすのです。
The designs of hotels are a barometer of a city's level of maturity. Hotel designing is a highly competitive market in London. Regardless of Eastern or Western Europe, all kinds of designs from classical to contemporary come together to form a "melting pot" of design culture. It is from this "melting pot" that designers produce unique design concepts.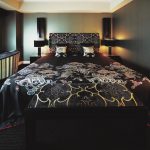 ---
レストラン&バー  Restaurants and Bars
英国のインテリアデザイナーは、住宅、商業施設を問わず手がけます。最高級の住宅のダイニングはレストラン、リビングはホテルのロビー、書斎はライブラリーデザインへとつながります。日本においても今後は本物のインテリアこそが差別化の武器となるでしょう。
British interior designers handle various types of projects no matter if they are for residential houses or commercial buildings. Consequently, the design of a top-class residence will have a dining area that feels like a restaurant, a living room that looks like the lobby of a hotel and a study that is like a library. In Japan where "Galapagosization" takes place, the market is flooded with awkward imitations and genuine interior designs are precisely the "weapon" that differentiates the two.
---
スパ&サロン  Spas and saloons
スパやサロンに求められるのは、めくるめく非日常の世界。幾重ものシーン転換が日常から非日常の世界へといざないます。特別な世界観を実現する想像の翼は、デザインの引き出しの多さの象徴です。
What spas and salons are looking for is a world that is dazzling and extraordinary. The multiple changes of scene will bring one from his or her usual daily life into an extraordinary world. The imaginative wings that brings about one's special view of the world is a symbol of the many designs that have been prompted.
---
ヨット&自家用ジェット  Yacht and plane
プライベートジェットや大型のヨットは富の象徴です。しかし制約の多いこの分野には、経験値の高いインテリアデザイナーが必要です。英国にはこの分野のトップデザイナーが数多く存在します。
Designing the interior of private jets and large yachts is the forte of British designers.
---
モデルルーム  Showroom
劇場のインテリアデザインに通じるこの分野には、空間デザインからフィニッシングタッチまで完璧に演出する能力が必要です。
This field is closely related to the interior design of theaters, and from the space design to the finishing touch, the ability to perform everything perfectly is necessary.
---
邸宅  Manor houses
現在も、マナーハウスのような邸宅の需要が多い英国。邸宅は、歴史的建造物を修復できるレベル、つまり世界最高峰の装飾芸術を再生できるデザイナーのみが創造しうる世界です。BIIDにはそれを可能にするトップデザイナーが多数所属し、本物の邸宅を、日本で実現することができます。
Even in the present day, the demand in the UK is still quite high for mansions which resemble manors. These mansions are historical structures that can be restored. In other words, it is a world that can only be created by designers who are capable of restoring the world's most outstanding decorative art. A large number of top designers who are capable of doing so is affiliated to BIID. In this way, we can make these genuine mansions a reality in Japan.
---
戸建て&リフォーム  House and reform
インテリアデザイナーが建築チームを率いて完成形から発想する住宅は、隅々まで心を行き届かせた高いクオリティを誇ります。英国インテリアデザイナーは、歴史的なさまざまな様式、モダン建築のいずれにおいても、100年後もその価値を高め、街並の財産となる住宅を作り上げます。
The interior designer leads the construction team and generates ideas from the completed form of the residential house. Every corner of the resulting residence is created with great care and the high quality is worth being proud of. Whether it is for historical structures of all kinds or modern architectures, British interior designers create residential houses which have a high value even after 100 years, and these houses along the streets will become assets.
---
公共施設  Public
これまでデザイン性が重視されてこなかった病院や介護施設でも、近年デザインと収益性に相関関係があることが指摘され、実際にその成果を上げつつあります。大きな可能性を秘めているこの分野でいち早く差別化を図るには、既成概念にとらわれないデザイナーの自由な発想が必要です。
It has been pointed out recently that there is a correlation between design and profitability even for the hospitals and nursing homes which have all along not been placing emphasis on design, and the results are in fact gradually improving. In order to liberate the great hidden potential in this field before others, it is necessary for designers to have the freedom to conceptualize without being constrained by stereotypes.